Easy, convenient financing for car repair and tires
You need your car in top operating condition to take you places. Yet, unexpected and urgent car repair bills can throw a wrench in even the best planned budget.
We at CarHavn want you to enjoy our quality repair services and top-notch parts. If the estimated repairs are a bit more than what you can handle now, let the BOSCH Service Credit Card come to your aid. This is the only credit card backed by BOSCH, a name you trust. It is issued by CFNA, Credit First National Association, a large national bank. This card is accepted by thousands of the best repair facilities nationwide.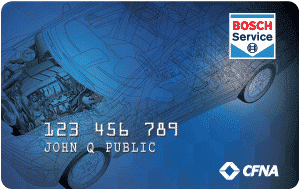 No Annual Fee
No annual fee ever! The BOSCH Service Credit Card does not carry annual fee costs of any kind.
Low Monthly Payments
The BOSCH Service Credit card, issued by CNFA (a large national bank) offers many options to pay off your repairs over time. Turn a large expense into low monthly payments with this convenient credit card!
Promotional Financing
Don't wait to get the tires or service you need. Manage your payments over time with promotional financing on purchases of $149 or more. Check out our 6-months deferred interest program!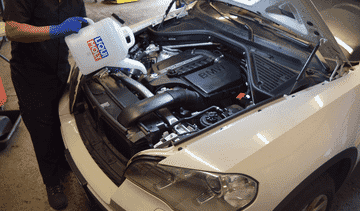 $149 Minimum purchase required. Interest will be charged to your account from the purchase date if the purchase balance is not paid in full within 6 months or if you make a late payment.
*MINIMUM MONTHLY PAYMENTS REQUIRED. APR: 28.8%. Minimum Finance Charge: $2.00. Terms are subject to change
REPAIR AND TIRES FINANCING FAQ
How does the promotional financing work?
With this plan, you won't owe us Interest Charges that accumulate on Six Month Payment Purchases during the Delay Period if we receive the required Minimum Payment Due by its Payment Due Date for each Billing Cycle during the Delay Period, and the full amount of your Six Month Payment Purchases by the Six Month Payment Plan Due Date. On-time payments are important. You can also check out our educational video to learn what it means to finance your purchases with CFNA.
Where can I use my BOSCH Service / CFNA card?
Your CFNA card is accepted at more than 8,000 locations nationwide. Check out our store locator to find a location near you that accepts CFNA.
How can I make a payment?
Pay online by logging into your account and clicking the View Payments link.
Pay by check or money order by sending your payment to:
Credit First NA
P.O. Box 81344
Cleveland, OH 44188-0344
Pay by electronic debit from your checking account by calling us at 800.321.3950.
You can process a debit or credit card payment for a non-refundable fee of $4.95 by calling us at 800.321.3950. Please note that you cannot process a debit or credit card payment through our automated phone system or online services.