A True Audi/VW Independent Repair Facility in New Haven
CarHavn is part of VW - Audi's Independent Shop program. We were vetted by VW of America as a licensed repair facility in the state, and we pay an annual fee that provides us with access to the same diagnostic software and technical information as the franchised dealers.
Audi, one of the three iconic German luxury brands, has a devoted fan base. Many of our employees are longtime owners and drivers of Audis. We believe in Audis so much, that the owner's personal car is a 2001 A8 with the legendary 4.2l V8, which runs like a champ! The key characteristics of the brand are beautiful design, comfort, safety, performance, and amazing technology. Audis are amazingly comfortable, well-built cars. No matter what kind of Audi you drive, from an A3 sedan to a Q8 SUV, you know they will put a smile on your face, and you will get lots of compliments on your car.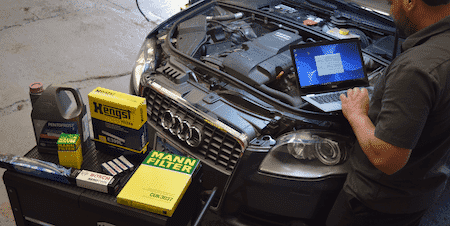 CarHavn employs master Audi mechanics with ASE certifications. Our techs have extensive experience in all Audi engines, from the 1.8 Turbos to the most recent V6 Supercharged power plants. They are also experts in all the electronic systems underpinning the excellent performance and many comforts Audis provide. We continuously train them so they are updated on all the latest engineering innovations coming out of Ingolstadt.
DIAGNOSTICS AND PROGRAMMING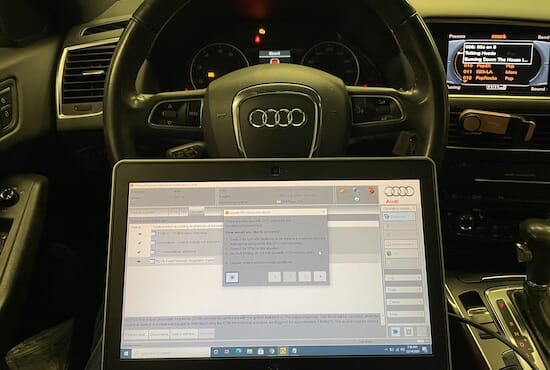 A generic 'scanner' is not enough to properly diagnose a highly advanced car like an Audi. Non-specialists (and some Audi shops in name only) lack proper Audi-specific diagnostics equipment.
CarHavn is part of Audi's Independent Shop program. We were vetted by VW of America as a licensed repair facility in the state, and we pay an annual fee that provides us with access to the same diagnostic software and technical information as the franchised dealers.
We have the capability to diagnose complex issues that have traditionally been the province of the dealer only. We can also replace and program most modules in all years and generations of Audis. Together with our expert technicians, and our access to first rate parts, we offer an amazing value versus non-specialists and franchised dealers.
AUDI SCHEDULED MAINTENANCE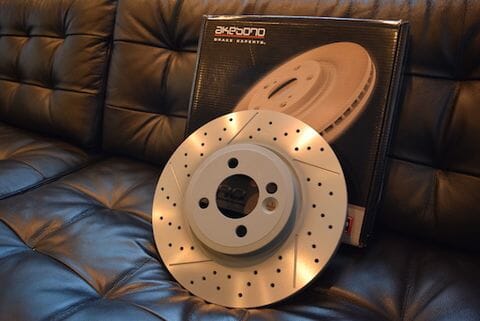 As a diligent Audi owner, you know that to keep its top performance and retain its value, your car requires more than 'an oil change'.
We strictly follow Audi's recommended 10,000-mile maintenance service and use German fully synthetic motor oil and brand-name filters. Tire rotation and a multi-point check are always complimentary.
AUDI BRAKE SERVICE - UPGRADE FOR LESS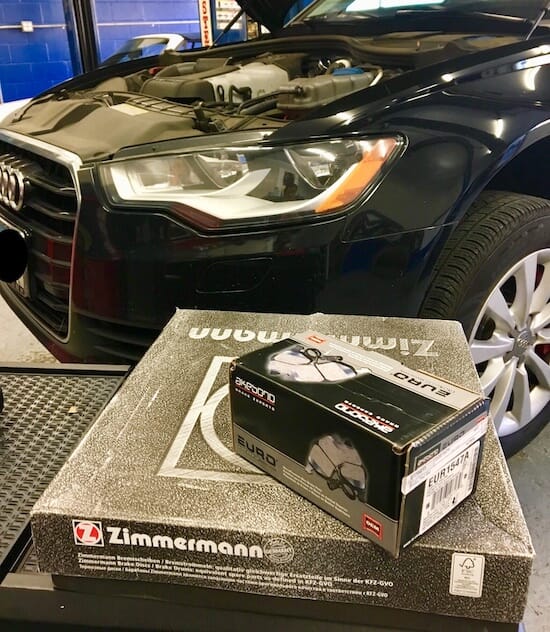 Time for brakes? Our superior brake parts are considered an upgrade over what the dealer offers. You see, Audi does not make rotors, brake pads, or sensors. They repackage products made by a manufacturer in Germany, typically a company like Textar, ATE, or Pagid.
Nothing wrong with that, but why not upgrade for less?
We use superior products - legendary zinc coated, German Zimmerman rotors, Euro-formulated Akebono (or similar) pads, and a sensor made by the OE manufacturer. A better brake service, for less!
We also have the ability to reset the computer. This has two major benefits: 1 The car knows it has new brakes, and applies pressures accordingly 2.The dashboard message stops annoying you!
Audi Timing Chain Replacement
Most of Audi's engines require the replacement of the timing system, including chains, tensioners, guides, and pulleys. The 1.8 TFSI, 2.0 TFSI, 3.2, 3.6, and 4.2 engines, all can benefit from timing chain replacement at around 80-100K miles.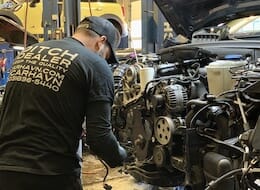 Expertise
Our expert Audi technicians have the training and experience to do this very delicate job well. We have done hundreds of timing chain jobs.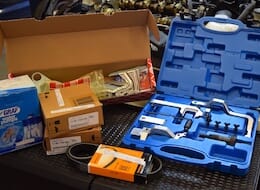 Tools
CarHavn has the tools to perform timing chain replacements in most of Audi's engines. Tools are engine, and sometimes year-specific.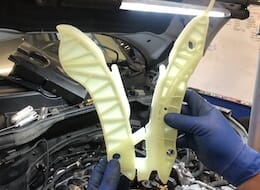 Parts
We use Audi original kits exclusively for this delicate job. We use VIN-specific kits to ensure a quality repair backed by a warranty.
AUDI WATER PUMP REPLACEMENT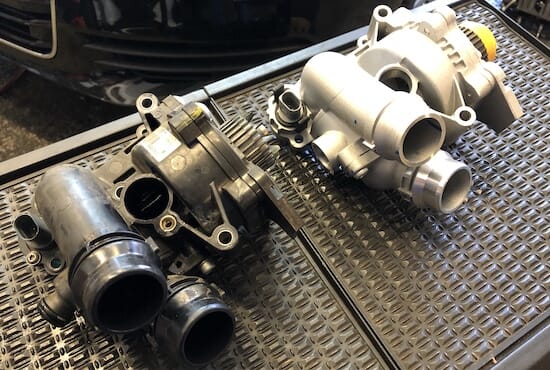 For some reason we will never understand, the wise engineers at Ingolstadt choose to save a few pennies in one of the most critical components in the engine - the water pump. They used a plastic impeller and housing combination, prone to cracking (the left pump in the picture).
This is a really bad place to save money, because, you see, a cracked water pump leaks coolant. And without coolant, and engine overheats, causing major damage to the head gasket, valves, and pistons.
Our water pump replacement service is really an upgrade. We use a pump with an updated design made of metal - much less likely to crack (the right pump in the picture). We back it up with a 24-month, 24,000 mile warranty for a happy, cool engine. We always replace the coolant!
Audi Turbocharger Replacement
The turbocharger (turbo) is a key component of the engine that increases power and gas mileage. It is considered a wear item, so at some point it will need to be replaced.
In Audi cars, turbo failure is typically indicated by the P0299 code in the engine. We have extensive experience in replacing Audi turbos.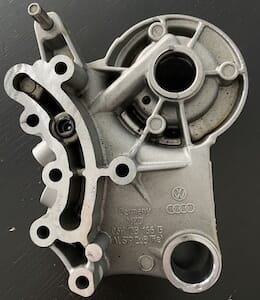 Original Parts
We only use NEW BorgWarner turbos with the updated design. No sense in using cheap knock-offs and waste your money in labor time. We offer a 24-month, 24,000 mile warranty in turbo replacement.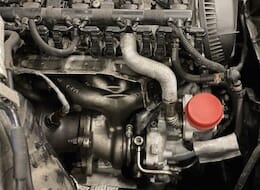 Expertise
We have replaced hundreds of turbos in all years of Audi engines. This is a great time to replace related parts like oil feed lines as they need to come out anyway. No additional labor cost!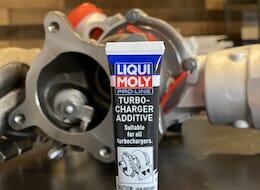 LiquiMoly Additive
We use the fantastic LiquiMoly Pro-Line Turbo additive to protect the new turbo against dry running and improve operational reliability.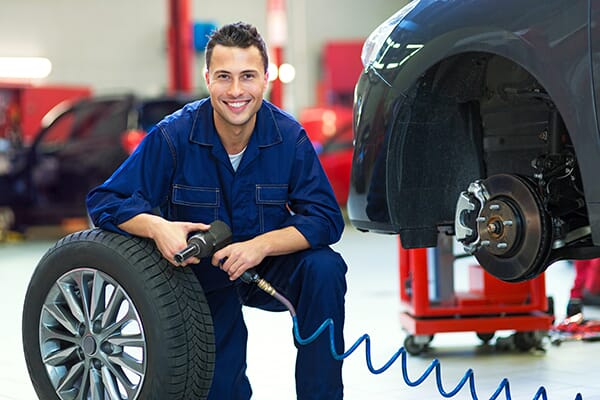 Services Available
AUDI 10K Maintenance

AUDI Diagnostics

Brake Service

Shocks & Struts

Tire Services

Oil Leak Repair

Coolant Leak Repair

Timing Chain Replacement

quattro Transmission Service

Water Pump Replacement
We Use Top Euro Brands
Part of being a Euro specialist is knowing which brands to use. Top car brands have top suppliers - brands like Lemforder, BOSCH, SACHS, Zimmerman and Akebono have the highest quality standards, and are typically the same as what you what get at the dealership. Just less expensive. We offer ony the highest quality components and use only tested and proven combinations.